AirPop Pocket

Wyjątkowa maska dla Twojej ochrony
Aby zapewnić Ci jak najlepszą ochronę, stworzyliśmy całą filtrację na nowo. Zaprojektowaliśmy maskę od podszewki, skupiając się na skuteczności, komforcie i łatwości w oddychaniu. To, co osiągnęliśmy, to powiew świeżego powietrza.
---
Pięciowarstwowa ochrona
Dwuwarstwowe, elektrostatyczne filtry włókninowe typu melt-blown cechują się dużą efektywnością filtracji i chronią nawet przed najdrobniejszymi zanieczyszczeniami. Warstwa przedfiltra umieszczona została pomiędzy dwiema ochronnymi warstwami górnymi, dzięki temu skutecznie zatrzymuje szkodliwe cząstki, znajdujące się w powietrzu. Filtr jednorazowy blokuje 99,97% PM0.3, w tym kurz, bakterie i wirusy. Jest skuteczny do 40 godzin użytkowania. Wybierając maskę AirPop, możesz więc cieszyć się skuteczną ochroną przez długi czas.
---
Dopasowany Krój
Każda twarz jest inna. Dlatego nasza pianka Ergo Foam ma specjalny kształt, który wypełnia trudny do uszczelnienia obszar wokół grzbietu nosa. Kieszonkowa maska może się szeroko otwierać, a dzięki rozkładanym skrzydłom zapewnia lepsze krycie policzków i podbródka. AirPop idealnie dopasuje się do Twojej twarzy - to maska zaprojektowana specjalnie dla Ciebie.
---
Specjalne etui
Maska AirPop Pocket idealnie komponuje się z eleganckim i smukłym etui (sprzedawanym osobno). Wystarczy złożyć maskę wzdłuż przerywanej linii i umieścić w etui, które zapewnia niezrównaną mobilność. Bezpiecznie przechowuj swoją maskę i noś ją, gdzie tylko chcesz - to prostsze, niż myślisz!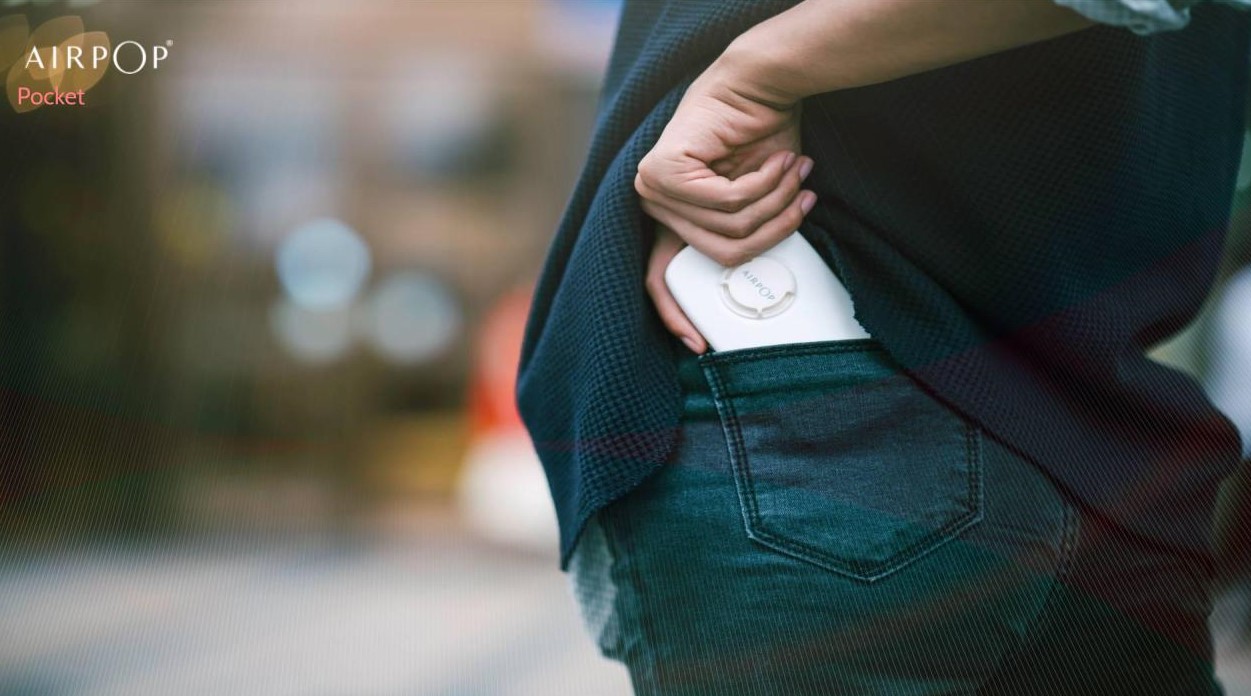 ---
Cechy Produktu
Uszczelka z pianki Ergo Foam / zawór wydechowy,

Złóż i schowaj / obudowa bezpyłowa,

Materiały: nylon. poliester, ABS,

Skuteczność filtracji: 99,4% cząstek i kropli (GB/T32610-2016 B),

Żywotność: filtracja działa łącznie do 40 godzin,

Wymiary: 14 x 15 x 15 cm

,

Waga: 12g,

Certyfikat - GB2626-2006 KN95.
Standard przyjazny dla skóry - DIN EN ISO 10993-5: 2009-10 
Maski są towarami higienicznymi zgodnie z art.38 pkt5 nie podlegają zwrotowi. Prosimy o przemyślane zakupy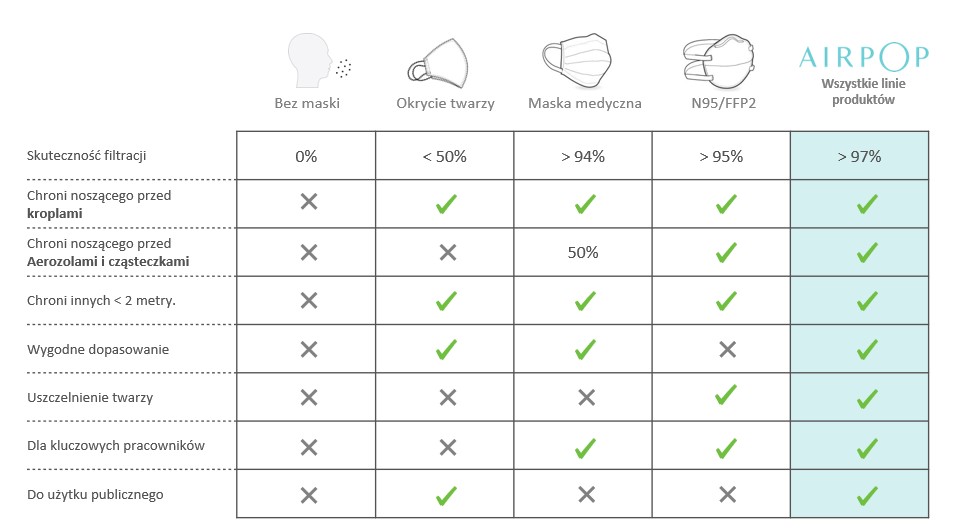 Specyfikacja
---
| | |
| --- | --- |
| Producent | AirPop |
| Kod produktu | 43312 |
| Ilość warstw | 5 |
| Kolor  | Biały |
| Certyfikaty | CE, FDA |
| Norma | EN ISO 10993-5: 2009-10 |
| Materiał | Nylon + poliester + ABS |
| Poziom filtracji | >99,4% |
| Użycie | Do 40 godzin |
| Klasa | KN95 |
| Standard wykonania | GB2626-2006 |